Thanks so much to the folks at JetBrains for hosting our Unity Quick Start webinar! If you're a C# developer (or just learning!) and interested in ramping up on Unity quickly, definitely have a look.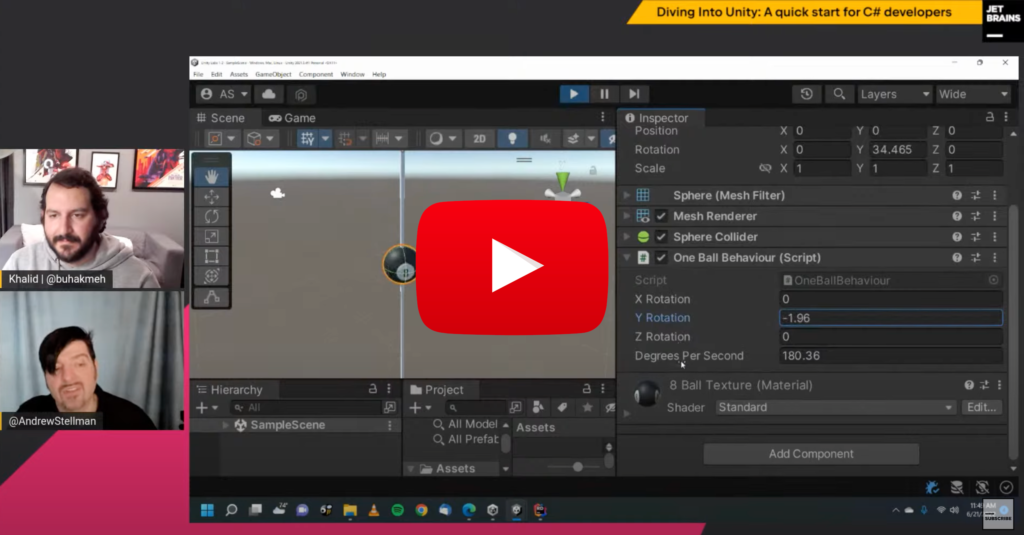 Are you curious about video game development? If you're like a lot of C# developers, you're intrigued by Unity, the cross-platform game engine that you can use to make professional-quality games, simulations, and more. So how do you get started with Unity? You may have even downloaded and installed Unity. But what do you do next? There are so many options, trying to figure out what to do first can be overwhelming. If you're a C# developer, how do you get started writing C# code with Unity quickly?
Check out the webinar with Head First C# author Andrew Stellman. We'll dive right into Unity, and get you up and running writing C# code with Unity and Rider. I'll walk you through several Unity Labs, which we built into Head First C#—the popular book from O'Reilly Media—as a way for C# learners to explore Unity while getting practice with C#. We designed these labs as a quick and efficient way to give C# developers a "just enough to be dangerous" level of Unity knowledge. We'll start by using the Unity editor to navigate around Unity and the 3D space. Then we'll write code to take control of Unity GameObjects, and build some simple 3D games, and you can use the Unity Lab PDF downloads to follow along through every step along the way.