Ever spend time working up an accurate estimate with your team, and find that it gets rejected because it doesn't match a magic number in somebody's head? You did your homework; talked to the people who've done this kind of work before, compared your estimate to past projects, and made sure that your estimates are coming from the people who will actually do the work. But, your boss thinks the project should be done a few months earlier. He doesn't doubt your work, the estimate just doesn't feel right.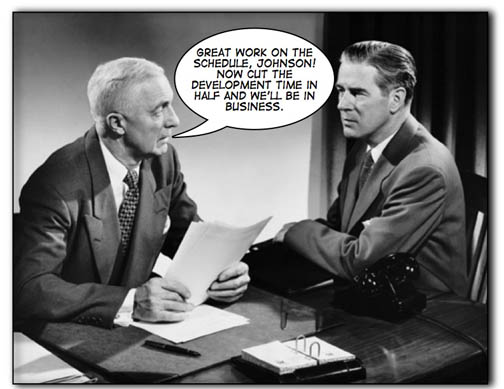 Estimates have a tendency to be more accurate when they're based on experience. Having actual data on your past projects is so important when you sit down to figure out how long it's going to take you to do a new one. The best estimates come from people who really understand the work that's going to get done. And practices for estimation that stay grounded in project experience are less likely to be wrong.
That's why your project will probably be really late if you just cave in and start shaving off time arbitrarily. It might not be easy, but you need to explain the reasoning behind the estimates your team has come up with and set your boss's expectations realistically. Too many projects are in a bad position before they ever really get started because a project manager doesn't correct this kind of misunderstanding.
It's one of the toughest parts of the job because your boss doesn't want to know all the details. He just wants you to get it done faster. And sometimes you can get done faster with more resources or with a different scope of work. But it's always a mistake to just cut an estimate because it doesn't match what people expect. You need to turn the conversation around and help everybody get to see what the real choices are. Just saying that project will take less time, never makes it happen that way– no matter how influential the person who wants it done yesterday is.
If you estimate right, you should never go back to your team and tell them to arbitrarily cut those estimates down. Instead, you should work with your boss to understand if there might be some work that can be cut from schedule, or some other ways to accomplish what needs to be done in parallel. If you set up a relationship where you and your boss are both doing everything you can to come up with a reasonable plan together, you stand a much better chance of succeeding.