Description
The Publication Harvester is a software tool that downloads publications from PubMed, stores them in a database, and generates an accurate count of publications for a set of people. The harvester uses a set of possible name variations for that individual, and records the list of authors. The goal of the software is to gather large amounts of data about specific people from PubMed for statistical analysis. It records the people, publications and publication data in a database, and generates reports based on that data.
The Publication Harvester software runs on Windows Vista and XP. It was written in C#, and requires .NET Framework 4.7.2i or later. (This should already be installed if you're running a current version of Windows.)
Documentation
Download
Software downloads:
Quick start:
If .NET Framework 3.5 isn't installed, either download and install it or (preferred) use Widows Update to install it.
Download and install MySQL 5.7.
Download and install MySQL Connector/ODBC 5.1.
Use the Windows ODBC Administrator (odbcad32.exe) to create an ODBC connection to the MySQL database installed in step #2.
Download the latest version of Publication Harvester, unzip it, and run the installer.
Run the Publication Harvester from the Start menu.
More detailed installation instructions can be found in the user manual (see below).
The following sample files may be helpful:
Troubleshooting
Troubleshooting Your People File

Did the sample input file work for you, but when you put together your own People file you didn't get the results you were expecting? Take a look at this guide to troubleshooting your People file.

Trouble Reading Input Files

A few people have reported trouble running the Publication Harvester software. They found that they were getting errors that look like this:


[Microsoft][ODBC Text Driver] Too few parameters. Expected 2.
Could not find installable ISAM
This application has failed to start because msaccess.exe was not found


The instructions in this guide to troubleshooting problems reading input files helped them resolve the problem.
Screenshot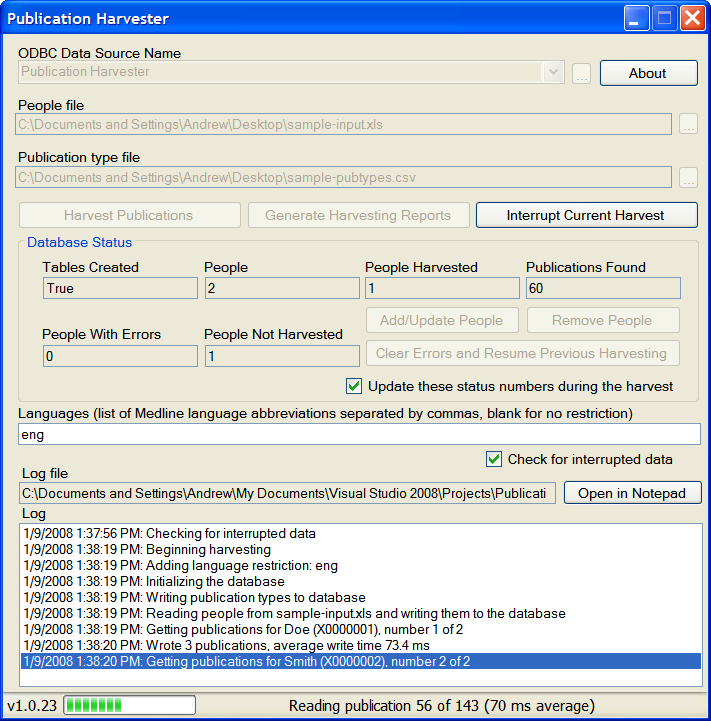 License
Contact Information
Revision history
We gratefully acknowledgement is given to the financial support of the National Science Foundation (Award SBE-0738142).